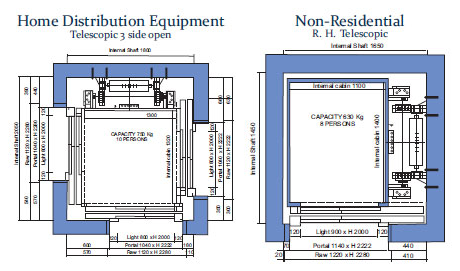 We are manufacturers and suppliers of wide range Passenger Elevators or lift in Delhi, NCR, Ludhiana and Dehradun, which is made of high grade raw material used. Passenger Elevators capacity to carry four to twenty one person in one go. Passenger Elevators have automatics doors that enhance their longer life and trouble free performance. These products are designed in accordance with the our customer requirements making use of high grade raw material. These products are highly acclaimed by the clients for their good performance, good quality, strength and low maintenance rate. We are known as one of the most genius and trusted manufacturer and supplier of a very highly premium quality range of Passenger Lift and Passenger Elevators. Our range is known for its best technology, maximum capacity and durable range. We have create unique design characteristics suited for home or office furnishings, such as designed wooden shaft-access doors rather than the typical metal sliding doors of commercial and residential Passenger elevators or Passenger lifts. Construction may be less robust than in commercial and residential designs with shorter maintenance periods, but safety systems such as locks on shaft access doors, fall arrestors, and emergency talk must still be present in the event of malfunction. We offer installation and maintenance service for our products.
Space Elevators the premier Passenger Elevators in Delhi NCR and different parts of India, we are design manufacture and suppliers the elevators keep the mind the space for your requirement, and architecture of Hospitals and nursing home. As stretcher cum passenger lifts or elevators are meant for the patients, such elevators are specially designed by us to provide ors maximum comfort and ease in operation with no jerks and sound.
Passenger Elevators Features :
Machine : Geared or Gear less-fitted in the Machine Room on I-Beams. Normal Load : 4 Passenger (272 KGS.) to 26 Passenger (1768 KGS.)Loads Speed : Low Rise : (Up to 6 floors) - 0.65 to 1.0 meter/second. Mid Rise : (Up to 12 floors)-1.0 to 1.6 meter/second. High Rise : (12 Floors and Higher)-1.6 meter/second. Control Unit : Microprocessor based control unit is fitted in the Machine Room. Drive : Variable Voltage Variable Frequency drive fitted in the control unit with open and closed loop operation. Doors : Automatic Center / Telescopic Doors or Manual Imperf orated and Telescopic doors.